Available classes and registration
We aren't able to process your payment. Please, try again.
Thank you for your request!
Your confirmation number:
ADD TO iCAL CALENDAR
To participate, contact us via messengers
THE HISTORY OF CERAMICS COURSE
The history of ceramics course is for adults and young people 12 and up. Students become familiar with ceramic production from various historical periods, which will inspire them to incorporate those features into their own creations. Each class begins with a 10 to 15-minute presentation of ceramics production of a given era based on
photos, discussion, and clay-molding.
Schedule: 8 for 2 hours
2-6 persons per group
Cost: 200€
To participate, contact us via messengers
Basic techniques of hand sculpting, plastic small forms (5 lessons):
The first lesson is the technique of sculpting from a ball.
The second lesson is the technique of modeling from clay layers.
The third lesson is the technique of modeling with harnesses.
The fourth lesson is sculptural modeling of a small animal or human figure.
The fifth lesson is decorating burnt products with glazes.
Schedule: 5 for 3-4 hours
2-6 persons per group
Cost: 200€
To participate, contact us via messengers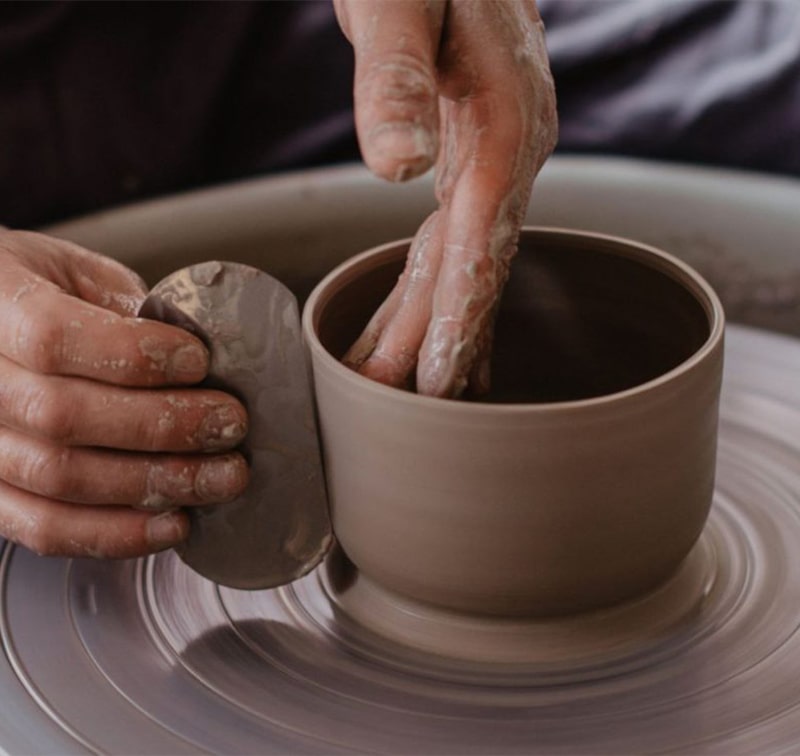 THE POTTERY WHEEL COURSE covers the basics of the pottery wheel. You'll make several objects from both terracotta and white clay. The Ceramic Art Studio has two pottery wheels (Shimpo RK-55 and Rohde), which allows only two students per group (ages 16 and up). Five sessions, three hours a session: 250 €.

The course teaches basic pottery wheel skills. You make several objects from terracotta and white clay.

If you want to decorate or glaze your creation, sign up for Decorating classes on Sundays 12:00 noon to 2:00 p.m. Advance registration is advised. Each 60-minute session is 15 €.

Classes: 5 to 3 hours 1-2 persons per group Cost: 250€
To participate, contact us via messengers
Health, psychological well-being, an atmosphere of creativity, acceptance, openness, and development — these are the fundamental principles underlying everything we do at the Ceramics Art Studio!
At the Creative Art Studio, we strive to maintain a healthy physical environment. We clean and air out the studio space regularly. We ask both teachers and students to stay home if they feel ill.
We use safe professionally produced materials from the best European manufacturers.
We kiln your ceramic works at a temperature 1050°C and 1250°C.
If you registered for a class that you cannot attend, we ask that you cancel the reservation beforehand. (Thank you!)
You can sign up for classes here.
Your finished molded object will take between two and ten days to dry, depending on its density. After that, your creation goes into the kiln for firing. That takes 24 hours. You must then glaze your creation and fire it again. As you can see, the entire process is a lengthy one. It can take up to three weeks from the initial molding to the finished product. But if you're in a rush, you can speed up some of the steps and get a finished product in three to five days. But in that case, make sure to tell your teachers in advance, so that they can help you modify the initial project with an eye on a few days' turnaround.
Important! We will store your creations for two months from the date of creation, but not longer. Please pick up your objects in a timely matter.
Also very important information!! – the result in ceramics is often unpredictable, especially if you are a beginner, tune in to the experiment. If you want a predictable result, come to the Sunday themed workshops and follow the exact instructions of the master.
The world of ceramics is wide open with a multitude of techniques for molding and decoration: a treasure chest of color and material. Follow our site and our posts on social media. Share with your friends! The more students we have, the more we can offer by way of new exciting workshops, courses, innovative techniques and materials. We are constantly learning, developing, and experimenting! We hope to see you soon in the Ceramics Art Studio!